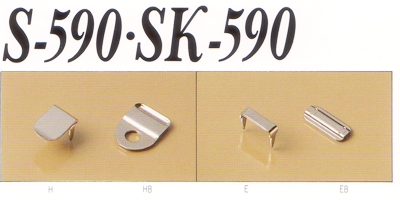 We've just released a new hook and eye (Product Number: S-590), installation of which was improved. In past, there were problems that installing a front hook caused thread scratches and/or wrinkles in particular fabrics, but our S-type product can completely avoid those problems.
Especially, our products are very effective as synthetic fabrics easily cause thread scratches. As thread scratches and wrinkles can be completely avoided, 'pants with pulled thread' may be tagged 'defected' in the future. The size and shape of our new products are the same as before, the existing specifications fit and installation method and form can be done in the same way as before.
The Non-scratch Hooks & Eyes realize higher-volume production and higher efficiency by using Hooks & Eyes installation machines of wide range from hand-press to full-automation type.