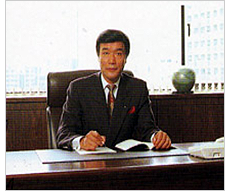 Oishi Industries Co., Ltd. has been pursuing improvements in customer satisfaction as well as promoting an ecological environment through cutting-edge technologies and quality-focused manufacturing.
Our company was established as a manufacturer of apparel attachments in Osaka in 1952, and we have been manufacturing high-quality and advanced electronic component-related products since 1997. The building of our factory in Da-nang, Vietnam will be completed in 2012 spring to start operation.
In order to pursue improvements in customer satisfaction through the advancement and development of  manufacturing and process technologies, we are proud to be able to meet flexibly "quality, delivery time and price" — which are the basis of customer needs, as we have three core technologies: "Mold designing/building", "Manufacturing/processing" and "Manufacturing technologies" in our own company.
Also, through the daily efforts each of our employees to find the best way and to provide solutions to customers, we correspond to requests for high-quality and high-precision processing and manufacturing from the apparel and electronic component industries as well as medical and environment-related industries.
We'd like to ask your continuous support to our new "challenge" while we try to correspond in a timely way to the variable market needs by reinforcing our three values of "human resources, goods and ideas".
Company Name

Oishi Industries, Co. Ltd.

Establishment
April. 1952
Board Members

Fukuo Oishi, President
Yoshihisa Oishi, Executive Director
Takao Kato, Director
Tatsuo Saimoto, Director

Number of Employees
Approx. 150 (as of April, 2011)
Capital
740 million Yen
Description of Business
Manufacturing and Sales of Metal Stamping Processed Goods
Manufacturing and Sales of Apparel Attachments
Manufacturing and Sales of Electronic Components
Business Base
Osaka, Okayama, Kagoshima
Line of Business
Precision Stamping Goods
Apparel Attachments
Electronic Components
Address
Head Office: 5-14-18, Nakamoto, Higashinari-ku, Osaka   (Map)
Okayama Factory: 380-38, Nagicho Nishihara, Katsuta-gun, Okayama (Map)

OISHI INDUSTRIES (VIETNAM)CO.,LTD
Hoa Khanh Industrial Park, Danang City,Viet Nam
Telephone / Fax
Head Office:  Telephone: +81-6-6975-0140 / Fax: +81-6-6975-1770
Okayama Factory: Telephone: +81-868-36-2500 / Fax: +81-868-36-6671
E-mail
info(at)oishikinzoku.com
* @ is indicated as (at) in order to avoid spam mails.
Please replace (at) with @ when you send us an email. We recommend to contact us via contact form.
WEB
http://oishikinzoku.com